The scientific journal "Social and Political Research" was founded in 2018.
Founder of the journal: FSBEI HE "Yaroslavl State Pedagogical University named after K.D. Ushinsky."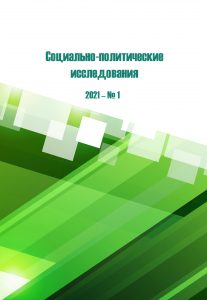 Scientific specialities due to which the academic journal is included into the VAK List, and articles are accepted for publication:
5.5.2 Political institutions, processes, technologies
5.8.1 General pedagogy, history of pedagogy and education
Journal headings:
"Political Science"
"Pedagogy."
Materials published in the journal are reviewed by members of the editorial board and external experts.
The periodicity of publication is 4 issues per year.
ISSN 2658 428Kh
Prefix and first part of DOI index 10.20323/2658-428X-
Registration number of the media: Federal Service for Supervision in the Field of Communications, Information Technology and Mass Communications (Roskomnadzor) PI No. FS 77 74000 dated from November 02, 2018
The journal is located in the combined catalogue "Press of Russia." You can subscribe to the journal "Social and Political Research" starting from any issue in the following ways:
By clicking on the link, the subscriber automatically appears on the subscription page, where you can quickly subscribe in a convenient way.
Since April 2019, the journal has been indexed at RSCI eLIBRARY.
Access to all issues of the journal is open and free on the website of the journal, in the Scientific Electronic Library of elibrary.ru, in CyberLeninka and in the electronic library of RUKONT https://rucont.ru/